Personalized doormats / Custom logo mats
Ademats offers a wide range of customized logo mats, carpets that you can customize the colors of your logo, your company name and / or a possible slogan, details that are important in our eyes and in the eyes of your customers !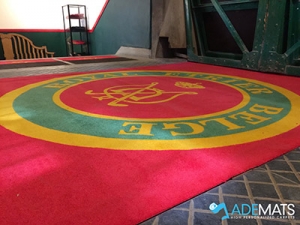 This is not just a carpet that is going to be pretty and matched to your image but also a carpet that will fulfill its primary role retain dirt and leaving deep inside your own building (which is still the priority of a carpet …) ! Our dust control mat are made of highly twisted nylon polyamide in order to retain dirt from outside. You can choose two possible finishes :
custom entrance mat : to place wherever you like, with outer edge of reinforced rubber.
custom entrance mat to fit: integrating into the ground to the intended location, without outer edge, usually 100% with specific measures.